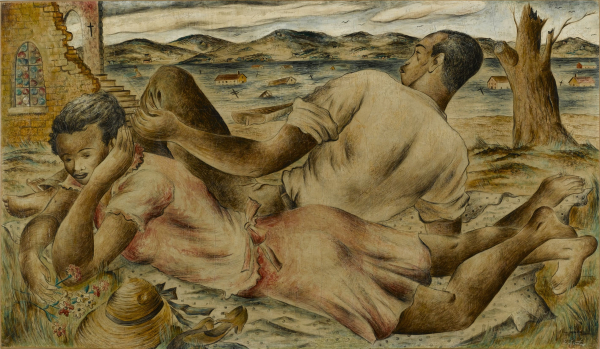 Museum Spotlight: Changing Landscapes
Opened October 7, 2022
American Art Galleries, 5th Floor
As the North American landscape has shifted dramatically over the last two hundred years, artists have used their work to capture these transformations and, at times, issue warnings about unsustainable practices. In Changing Landscapes, paintings and sculpture from the nineteenth to twenty-first century draw connections between historical and contemporary artistic responses to this evolution. Works by nineteenth-century artists such as Asher B. Durand and Louis Rémy Mignot romanticize natural settings in the face of pollution and oppression—including locations central to Indigenous peoples that were then being exploited through broken treaties and outright land theft. Twentieth-century artists such as John Biggers and Eldzier Cortor remind us of the cost of environmental disasters and the importance of harmony between humans and nature. And amid today's rampant environmental injustice, contemporary artists Valerie Hegarty, Courtney M. Leonard, and Alexis Rockman examine the entropy of changing landscapes, the disruption to food systems caused by shortsighted farming and fishing methods, and chilling visions of apocalyptic futures.
Museum Spotlights are intimate installations of noteworthy collection works, recent acquisitions, and loans, presented to encourage deeper conversations about art, history, and justice.
Changing Landscapes is organized by Caroline Gillaspie, Assistant Curator of American Art.