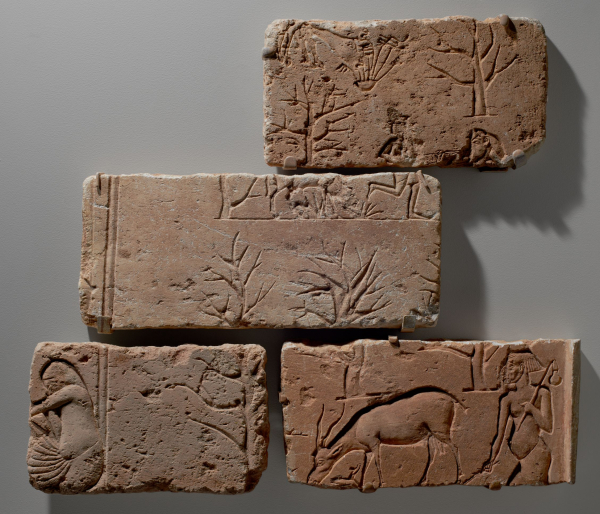 Museum Spotlight: Growing Up Tutankhamun
Opened October 14, 2022
Egyptian Galleries, 3rd Floor
Growing Up Tutankhamun marks the centennial of the opening of Tutankhamun's tomb (November 4, 1922) by reuniting a newly gifted relief block with an existing pastoral scene in the galleries. The four adjoined reliefs once decorated the royal palace where Tutankhamun grew up. The pastoral scene reveals the unique style of the Amarna Period, which introduced naturalistic imagery, previously unparalleled in Egyptian art.
The installation offers a glimpse of Tutankhamun's family and the extraordinary art that decorated the city of Amarna during the king's childhood. Sculptural representations of Nefertiti and Kiya, both wives of King Akhenaten, explore Tutankhamun's royal lineage and comment on the debate regarding the identity of his mother, using the latest research on this topic. Faience and fresco palace decorations reveal the colorful splendor of Amarna Period palaces and court life.
Museum Spotlights are intimate installations of noteworthy collection works, recent acquisitions, and loans, presented to encourage deeper conversations about art, history, and justice.
Growing Up Tutankhamun is organized by Yekaterina Barbash, Curator of Egyptian, Classical, and Ancient Near Eastern Art, and Kathy Zurek-Doule, Curatorial Associate, Egyptian, Classical, and Ancient Near Eastern Art.
With special gratitude to Dr. W. Raymond Johnson.